The megahog or hogzilla is a mysterious species of hog that has been spotted in numerous places across the states. According to evidence found these creatures grow around 10 feet (3m) long. Some of the places where these creatures have been found are Texas, Alabama and Florida and specimens found have been up to 700 pounds.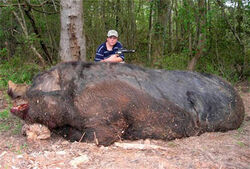 disclaimers
Edit
In 1933 a mammoth pig named Big Bill was reported to weigh an impressive 2,552 pounds. However, Big Bill turned out to be an overfed domestic hog. Experts have been skeptical of the recent Mega Hog stories and suggest that they are no more than domestic, pen-fed pigs like Big Bill, which have been raised to immense size. However many of the reports suggest an ancient even prehistoric ancestry.
Ad blocker interference detected!
Wikia is a free-to-use site that makes money from advertising. We have a modified experience for viewers using ad blockers

Wikia is not accessible if you've made further modifications. Remove the custom ad blocker rule(s) and the page will load as expected.