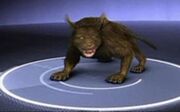 Beast of Bladenboro is a creature that resembles a cross between a dog,a cat,a bear and a racoon.The creature shares simiralities with The Chupacabra,in the sense that the two drain blood from creatures.In January 6,1954,a 21 year old woman saw the creature come walking in the direction of her porch.It was unlike anything she'd ever seen before.The creature looked wolf-cat-and bear like in appearance.In October 2007,Bill Robinson's pet pit bull fell victim to the creature.His dog seemed to have a mind of its own when it was found in his yard.As unbelieveable as it sounded to Leon Williams,he picked out the cry of a tiger despite them being native to India
Ad blocker interference detected!
Wikia is a free-to-use site that makes money from advertising. We have a modified experience for viewers using ad blockers

Wikia is not accessible if you've made further modifications. Remove the custom ad blocker rule(s) and the page will load as expected.